AC4C (Alliance of Coalitions for Change) is a collection of Iowa-based coalitions that work to provide substance abuse prevention strategies and resources to local communities.
A valued resource to Iowa coalitions
Successful partnerships with state agencies
Demonstrated leadership in addressing statewide substance misuse and abuse
Meaningful youth involvement
Sustained environmental change
What you can expect from AC4C
A valued resource to Iowa coalitions
Networking with other coalitions
Access to the Roundtable and monthly communications
Resources, toolkits and best practices for substance use prevention
Collaborations with informed and professional partners
Training and CEUs for Certified Prevention Specialists (CPS and ACPS)
Information about state-wide training opportunities
AC4C Prevention Conference
Quarterly work retreats
Ability to affect state-wide change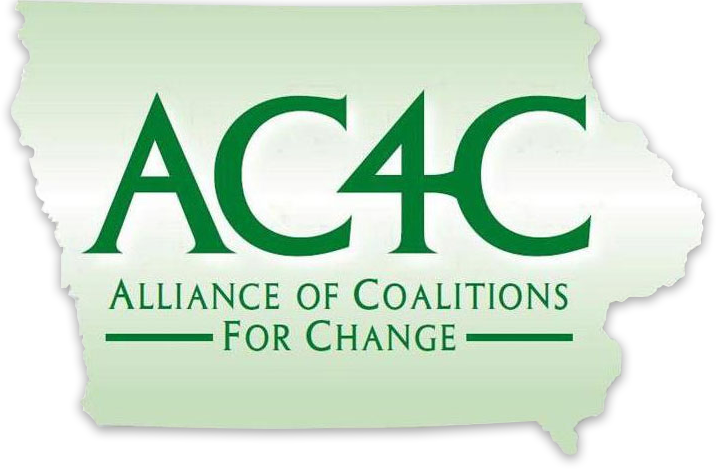 5 Reasons To Become A Member
1. Together, We are Stronger
Join a movement of like-minded coalitions committed to preventing substance misuse and connect your work to state level initiatives.
2. Join our Quarterly Retreats & Annual Prevention Conference
Participate in events throughout the year to increase knowledge while connecting with experts from state agencies and local coalitions.
3. Strengthen Your Impact
Reinforce your coalition capacity with access to toolkits, media campaigns, online and face-to-face training opportunities to increase advocacy, coalition building, establishing priorities, and tailoring a substance abuse message for your community.
4. Stay Informed
Receive monthly access to our Roundtable newsletter as well as ongoing information on AC4C policy issues and latest drug trends. Monthly online action team meetings are held for Alcohol, Marijuana, Nicotine, Other Substances, Policy, Marketing/Capacity.
5. Have Your Say
Provide input on AC4C's policy work, advocacy priorities and messaging. Hear from state partners and provide insight on local conditions.