AC4C ACTIVITIES
Organizational Makeup
All members are connected to substance abuse prevention efforts in local coalitions.
Executive Board
The Board is made up of 9 elected members; governs coalition activities.
Advocacy
Work to educate elected officials regarding substance use and misuse in our communities, program effectiveness and make funding requests.
Regular Meetings and Communications
Receive updates about events, resources, and state-wide work sessions to address alcohol, nicotine, marijuana, and other substances.
Annual Prevention Conference and Trainings
Receive information about the AC4C Prevention Conference and educational opportunities.
Youth Engagement and Advocacy
Annual "Day on the Hill"training for over 100 youth to advocate for prevention and legislation.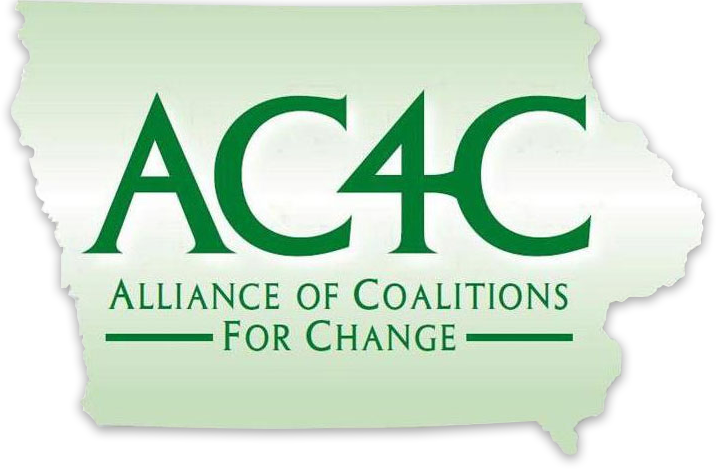 92.9%
of AC4C Coalitions have passed at least one local ordinance or policy
93,710
Hours provided to AC4C efforts by community partners
June 2019 AC4C Evaluation Report
AC4C IS CREATING CHANGE
2020: Identified alcohol, marijuana, nicotine, and stimulants as areas of priority based on local & state data
2019: 1st Annual Prevention Conference offered at Camp Dodge
2018: Iowa Pharmacy Association (IPA) Goes Local education sessions with pharmacies across Iowa
2018: Provided feedback for Iowa Economic Development state code updates
2018 & 2019: Advocacy Policy Summit
2017: Created videos showcasing need to increase beer tax and issues related to marijuana
2015: Prescription drug disposal sites in all 99 Iowa counties
2015: Funded Iowa Thought Leaders Summit and facilitated local conversations on emerging opioid crisis
2014: State-wide social host law passed in Iowa
2007: Local ordinances to align with state Keg registration